Maintaining a healthy green lawn in the Jackson County, MI area requires professional lawn fertilization and treatment plan.
Choosing the correct fertilizers and weed control products for lawns in the Jackson County, Michigan area, then deciding when to apply them, can be a more daunting task than one might initially think. Several considerations must be thought through that are far greater than "What big box store to shop at?". All our lawn techs have the proper training, licensing, and knowledge to provide a comprehensive lawn treatment program. We'll be sure to keep your turf healthy, thus suppressing and even eliminating weeds, while keeping the destructive invasive pest populations at bay.
When choosing a good fertilizer, there are 3 important ingredients that need to be considered, nitrogen phosphorous, and potassium, referred to N-P-K. These three ingredients will always appear in that order on any fertilizer. The two most important ingredients for cool-season grasses in Michigan are nitrogen and potassium. The nitrogen in the fertilizer is what gives your lawn the rich green color our customers desire, while the potassium strengthens your lawns root system and helps to ward off pests and disease. Phosphorus is not necessary for Michigan lawns and should be avoided because the soil has enough stored phosphorous from the ground.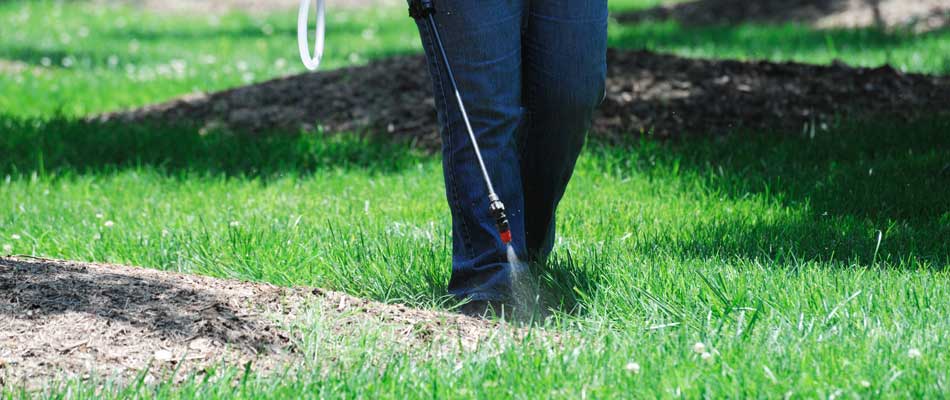 3 Fertilization & Weed Control Packages
Our fertilization treatments and weed control programs typically include three dry applications, one liquid application, two liquid weed application treatments (one in spring and fall), and a quick release fertilizer in early October. We offer three different fertilization programs.
The Emerald Gold Program
This is our recommended six application package that will deliver the most optimal results for your lawn. The Emerald Gold Program is our most popular package and exceeds our customers' expectations when it comes to the health and beauty of their lawn. This package includes:
Three granular fertilizer applications that are controlled release, balanced, and golf course quality.
One application of pre-emergent herbicide to help control foxtail grass, crabgrass, foxtail grass etc.
Two blanket applications of broadleaf weed control applied during the spring and fall. This application helps ward off dandelions, clover, plantain, etc.
One surface application for insect control as needed to prevent chinch bugs, armyworms, white grubs, and many others from taking over your lawn.
The Emerald Silver Program
Our Emerald Silver Program includes five applications and is very similar to the Emerald Gold Program. The only difference in the Silver program is it doesn't include the insecticide treatment. The five applications are the same as listed in the Emerald Gold Program above.
The Emerald Essential Program
This four-application program has a lower overall cost but is still a good choice to help maintain the quality and overall appearance of your lawn. This lawn treatment package is a good starting point for establishing a healthier lawn. Its focus is to help control weeds, provide a fertilization application in the fall, and a fertilization and crabgrass treatment application in the spring. This four-step program includes:
In the early spring, a mix of pre-emergent herbicide and a dry fertilization product will be applied to your lawn. This will help control annual grasses that can overtake your lawn, like crabgrass, goose-grass, foxtail etc., while giving your lawn nutrients it needs at the same time.
Two blanket applications of broadleaf weed control as needed in the spring and fall to help control weed outbreaks in your lawn.
One application of a complete balanced, dry, slow release fall/winter fertilizer will be applied. This may be applied with a fall liquid weed treatment depending on what the temperature and weather conditions are like.
This lower cost option is a basic service but still provides the outstanding level of results we are known for. With the basic package, we are not able to offer free re-treatments, guarantees, or additional visits and inspections that the higher-level packages offer.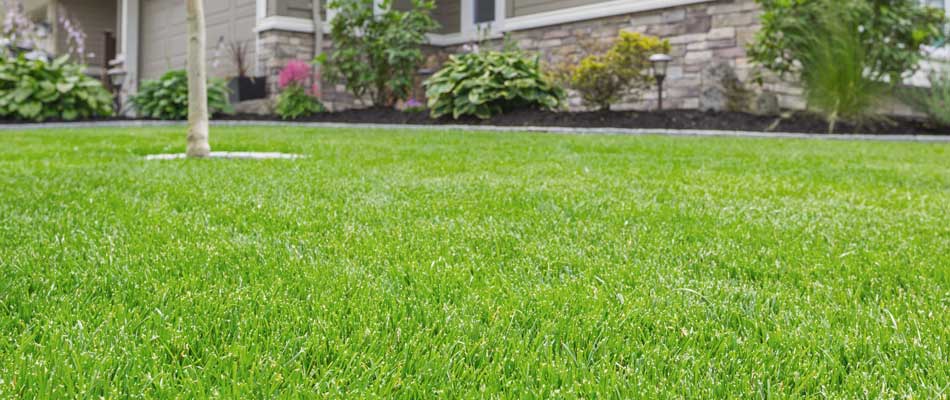 The Triple Plus Platinum Add-On
This is an add-on package to the above treatment programs. We use a three-step chemical treatment for the difficult unwanted weeds and grasses around your property. This program offers additional insurance of spot application after crabgrass treatment. This add-on service provides three additional visits to your lawn and include:
In mid-spring, our technicians will come to our home and chemically spot treat any weeds. We will be focusing on weeds along your landscaping beds, around ornamental landscaping, hardscaping, or anywhere else on your property unwanted weeds or grass is growing.
During mid-summer, we will visit your property for spot weed control and post crabgrass treatments. Our goal during this treatment is to eliminate any weeds in your lawn and spot treat weeds along landscaping, walkways, and driveways.
When fall begins to set in is the optimal time to spot treat and eliminate any hard to kill weeds in your landscaping beds, around shrubs, ornamentals, hardscaping, or any other unwanted grass or weeds so they don't return in the spring.
Request a free consultation to improve the health of your yard.
Every lawn in the Jackson County, MI area needs a fertilization treatment program to thrive. Give us a call at (517) 750-5296 and we'll provide a free assessment to determine the best approach to treat your lawn for weeds and deliver the nutrients it needs to thrive all year long.