Installing mulch for homes and businesses in Jackson County, MI.
Everyone loves fresh mulch in their landscaping beds, as it gives a fresh look and makes your landscape look brand new. What many don't realize is that mulch (and other ground covers) actually provides a lot of benefits that go beyond the visual appeal. In the Jackson County, MI area, we recommend refreshing your mulch at least once per year.
Mulch has many benefits beyond aesthetics.
When installed properly, mulch ground covers can provide many health benefits for the plants and shrubs in your landscaping beds. Here are the most important reasons to lay fresh mulch:
Acts as a natural barrier to keep weeds from growing.
Insulates the soil during hot and cool temperatures.
Retains moisture for your plants to use, requiring less watering.
When properly installed, mulch also prevents the soil from eroding due to rain.
Of course, mulch also looks great!
By properly installed, we mean that mulch should be installed at least 2-3 inches thick. Mulch should also be refreshed yearly at a minimum.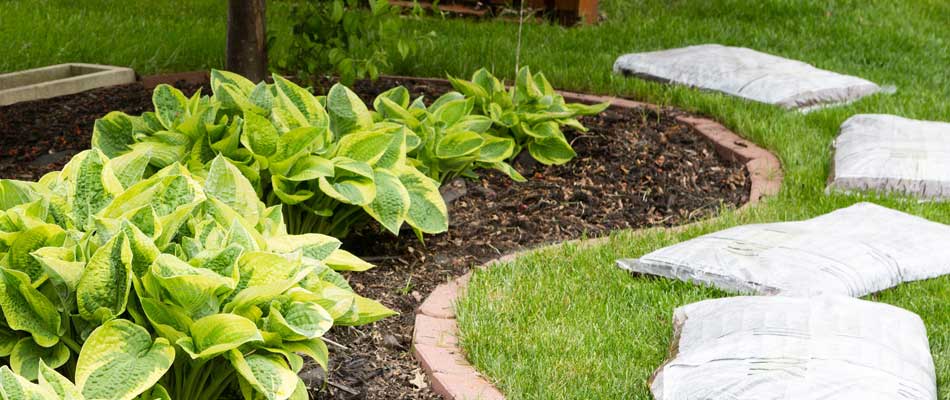 Most popular mulches used in the Jackson County area.
There is a wide variety of mulches that can be used for the landscaping at your home or business. In the Jackson County area, there are a few that are more commonly chosen than others. The most popular mulches we install include:
Shredded Cedar
Shredded Hardwood
Pine Bark
Colored Mulches (red, black, and brown)
Although those are the most popular, we can install any type of mulch that is available. We can also install rock ground covers, such as pea gravel or river rock.
Get a free estimate for the sale, delivery, and installation of new mulch.
At Emerald Outdoor, LLC, we handle your mulch or rock refreshment project from start to finish. We'll provide the sale, delivery, and installation of your mulch. Give us a call at (517) 750-5296 and we'll come to your property to measure your beds and give you an accurate quote. We are currently providing mulch installation for residential, commercial, and HOA properties in the Jackson County, MI area.